Thank you for an incredible 46th annual Governor's Cup Road Race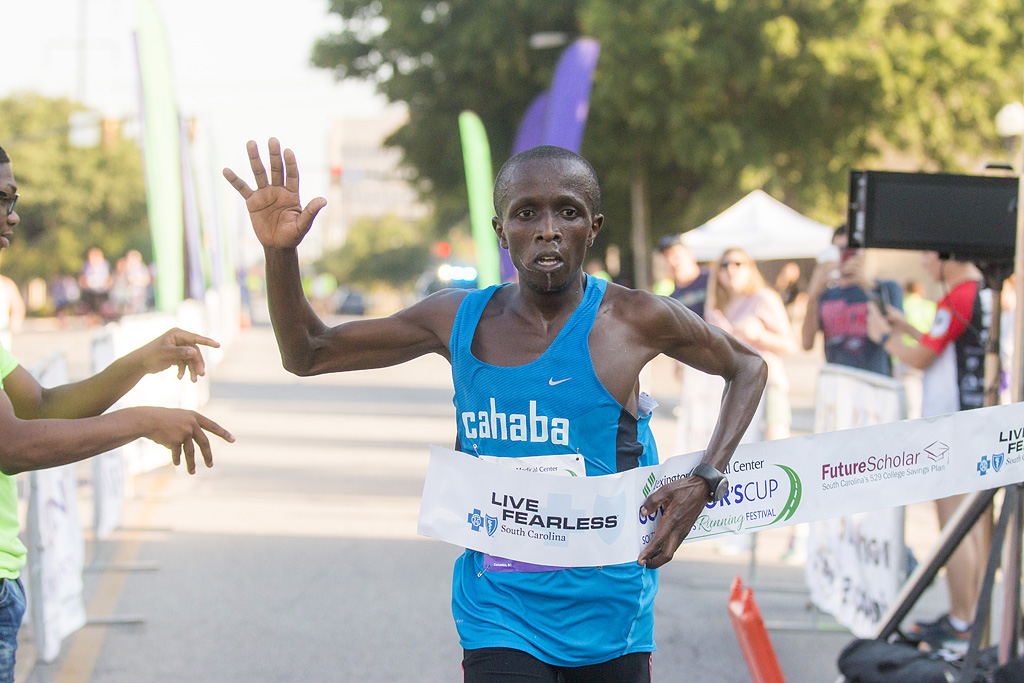 Francis Kamiri is the 2018 & 2019 Governors Cup Half Marathon winner. He ran a blistering course record time of 1:03:38 this year in his return to defend his title. Last year, despite his bus not arriving in Columbia until 2am, he ran 1:05:28, beating the 2nd place finisher, another Kenyan, by over 2 minutes. This year his pace was 4:52 per mile! Those of you that have run the hilly course in May's humidity know how incredible that is! We sat down with Francis to learn more about this amazing athlete.
Francis is 31 years old and lives in Murang'a County, Kenya. He is married and has two children. He began racing at a young age while in elementary school and competing seriously upon graduating high school in 2008. He didn't start traveling to the United States to race until 2017. He obtains a travel visa twice a year and stays in the US during the spring and fall racing seasons. While here, he lives with a host family in Birmingham, Alabama. He focuses on distances between 5k and 1/2 marathon. One of his first races in the US was the 2017 Lexington Jail Break 5k which he won.
During racing season Francis trains just enough to keep his fitness sharp, focuses on fueling his body with healthy food, and making sure to recover from each race.
Francis says he likes to come to Columbia to race the Governors Cup because it is a well organized event, the community welcomes him, he feels safe on the course, and of course the success he's had. He attributes his success on the hilly course in humid conditions due to similar terrain and temperatures in Kenya. He trains in Kenya at an altitude of 2400 meters. When he goes through tough patches during races, he thinks of his family as he is the primary provider for his family of 4.
Francis is a very gracious athlete while making a sub 5 minute pace look easy, as you can see from his picture from the event! We hope he continues to visit us and race well in all his competitions!