Kids Main Street Mile Registration
Calling all Kids…Are you ready to Rock the Main Street Mile?
Join us for the Lexington Medical Center Governor's Cup Kid's Main Street Mile presented by Future Scholar 529!
The Kid's Run will kick off the Governor's Cup weekend with a 1-mile run on Main Street on Friday, May 17 at 6:30pm. Stick around for the open and elite Main Street Mile events that will follow the Kids Run.
We are excited to offer FREE registration for kids ages 12 and under, thanks to the sponsorship by Future Scholars 529.
All Kid's Run participants will receive a race t-shirt, bib, and some fun gifts and upon completing the 1-mile loop, they'll get a medal!
Registrations are first come, so make sure to sign-up as soon as possible. Click here to register.
Kids Main Street Mile T-shirt Contest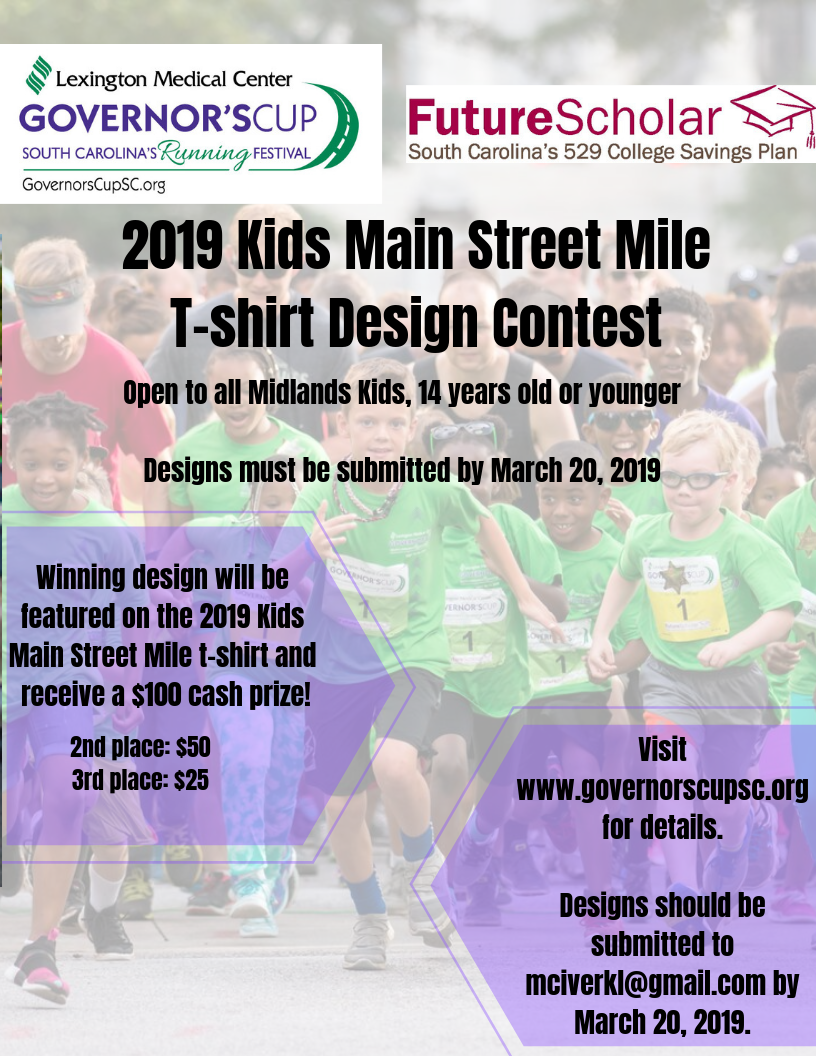 Kids Main Street Mile t-shirt contest rules:
All Midlands children ages 14 and younger are eligible to participate
T-shirt Design should include the following elements (if not included they will be added to the design):

Governor's Cup Road Race
Future Scholar 529 Kids Main Street Mile
May 17, 2019
T-shirts will be PURPLE so keep that in mind with your design
Colors may need to be modified due to shirt color and to minimize the number of screens needed to print
Keep in mind that the design should fit on the back of a t-shirt…all sizes are welcome for entry but we may need to resize the design prior to printing.

A child may submit only 1 entry
Entries should be emailed to mciverkl@gmail.com. All submissions must be received by midnight on March 20, 2019
Please include child name and age, and parent name, in email submission
The top 3 designs will be decided by the race committee, design winner will be decided by Cola Today readership.
Top 3 Awards:
1st place: design on KMSM t-shirt and $100 cash prize
2nd place: $50 cash prize
3rd place: $25 cash prize
Designs become the property of Carolina Marathon Association and may require modifications prior to printing. We will do our best to maintain the original design but may need to add or remove text to fit the space, and change colors to meet screen printing recommendations.